In our Decades Decoded series, we share touchstones of Northport history from the 1940s to the 1990s
Northport/ East Northport in the 1970s
1970
The new Saint Philip Neri Church was dedicated on June 28th.
1971
Ocean Avenue Elementary School caught fire; reports later confirm that the blaze was arson.

The new building for Jones Drug Store was constructed.
1972 
The Watergate Scandal, which would topple the Nixon administration, began this year with Nixon trying to cover up the break-in at the Democratic National Committee headquarters in Washington D.C.
1973
September saw the first Cow Harbor Day Parade, which was organized to help stimulate business for a struggling Main Street.

Northport Diner was purchased by Otto Hess and renamed Shipwreck Diner.
1974
Jack Campbell is elected Mayor of Northport. He served until 1978.

 The Northport Historical Society held a ribbon cutting ceremony for their new home at the Carnegie Library on Cow Harbor Day. They were given the building permanently in 1976 with a donation by the Cavagnaro family.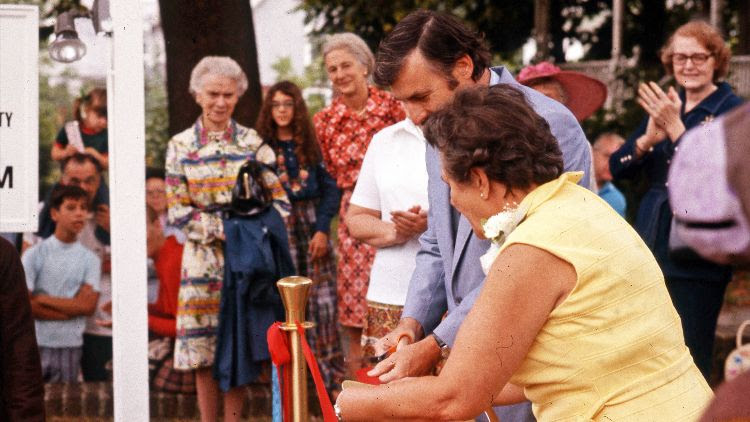 A ribbon-cutting ceremony officially opens the Northport Historical Society Museum in 1974 with Mayor Jack Campbell and Henrietta Van Sicklen
1975
The Vietnam War Ends with the surrender of South Vietnam on April 30th.
1976
Year of the American Bicentennial: School curriculums are developed around the anniversary of America's independence- the theme of all major events from Memorial Day to Cow Harbor Day.
1977
First Cow Harbor Day Race organized by John Rakucewicz- 1,002 people finished the race that year.

The Northport trolley gets used again in an attempt to offset Main Street's parking problems.
1978
Marion Brett, the editor of the Northport Journal for 50 years, passes away.

Peter J. Nolan is elected Mayor of Northport. He serves until 1998.
1979
Capt. Dexter Cole Seymour, grandson to oyster baron Dexter Cole and founder of Seymour's Boat Yard dies. He was Northport's Harbor Master for 46 years.
Dexter Cole Seymour (1890 - 1979)
Do you like this post?