Northport's First First Responders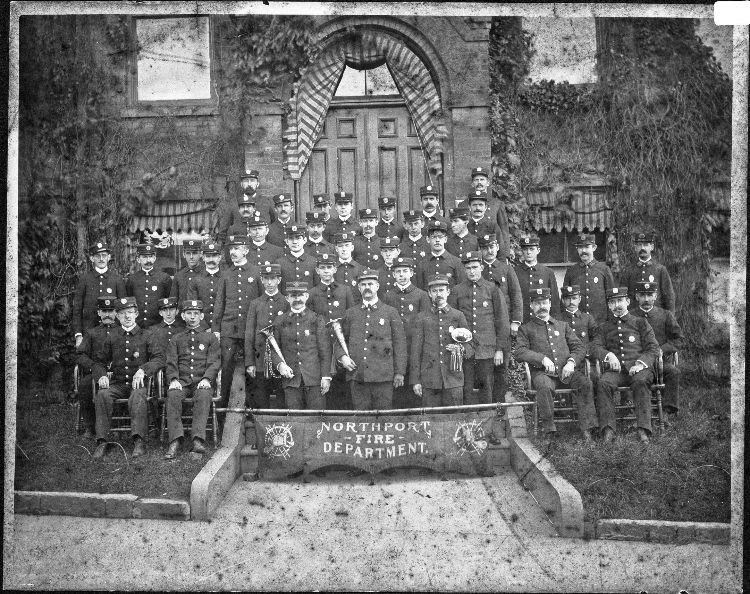 Northport Fire Department
Protection for a Growing Community
By the late 1800s, Northport had become a prosperous and busy village, housing major industries such as publishing, ship building, sand mining, and oyster farming and affording growth and wealth for its approximately 2000 citizens. Churches, banks, hotels, schools, retail stores and homes lined the streets. The increasingly dense and populated village made evident that an organization to fight fires was increasingly necessary.

James Cockcroft, co-founder of the Edward Thompson Company, knew all too well the dangers of fire. Having lost everything in the Great Chicago Fire of 1871, he moved to Northport upon a recommendation from his doctor to "seek rest and avail himself of the fresh sea air". In September of 1889, Edward Thompson, his business partners James Cockcroft and Edward Pidgeon, and 16 other prominent businessmen including Henry S. Mott, William H. Sammis, Joe Vanderbilt, and Nathaniel S. Ackerly, met in Thompson's office to form the Northport Hook and Ladder Company. 
Northport's first firehouse on Woodbine Ave with crew assembled
A barn was donated by Cockcroft and moved from Bayview Avenue to Woodbine Avenue almost directly across the street from the newly built Thompson Building. A bell was placed on top to call men to meetings and for fire alarms. Edward Thompson, who was elected the organization's first president, set about finding uniforms and purchasing equipment with money raised through selling subscriptions and clam chowder dinners.
The Company's first hook and ladder truck was about the size of a farm wagon, painted red, with sideboards and hangers for ladders and hooks. A long rope was attached so that the eight to ten men could pull the truck along to the fire. They built their own pumper truck (a pump mounted on a second truck) so that two men could be stationed on each side to draw water out of wells.

The first recorded fire to which the Company responded to came at 6:00 am on June 26, 1891.  The fire was at a vacant house in Vernon Valley, but by the time they arrived, the fire was already out.

Over the next few years many improvements were made. Fire hydrants were installed, hoses purchased, a new engine was acquired, and in 1893 local taxpayers approved an incorporated fire district. Nathaniel Ackerly, a local Civil War hero, was elected Chairman of the fire district and the Northport Hook and Ladder Company became the Northport Fire Department.

The title for head of the department was changed from President to Chief and on June 12, 1893, another Civil War veteran, Joseph Vanderbilt, was elected the department's first Chief, having previously served as "foreman" of the crew.
Northport's second firehouse
In 1905 construction of a new firehouse began and Joseph Vanderbilt's son, George was elected Chief. The new firehouse was completed in 1906 and shared space with Village Hall.

The 20th Century brought about many changes to both Northport and to the fire department. The town was wired for electricity and Chief Vanderbilt became the first chief to have an electrical fire siren to call the men. By 1922, the department had acquired three motorized pieces of equipment, and in 1941 purchased its first ambulance and formed a Rescue Squad.
After World War II the population of Northport grew at a rapid rate and again, a new modern firehouse was needed. In 1955, the old building was replaced.  Fred Kretzschmar was Chief when the Department moved into their new headquarters.
A new Main Street firehouse was built in 1955
During the 50s a company of junior firefighters called "Smoke Eaters," was formed along with new procedures and training in first aid and fire prevention. All new members of the department were required to attend Fire School and members of the rescue squad began completing more advanced first aid courses.
Throughout the decades, the Northport Fire Department has grown and adapted to the times. A SCUBA Team was formed in the 1970s. By the 80s, the Smoke Eaters had sworn in its first two female members – Maureen Mahoney and Michelle Sedlock. In 1984, Paula Goldee became Northport's first female firefighter.

The current fire house was renovated and enlarged in 2002. A new façade was also added, designed to resemble the 1906 building.
East Northport Fire Department
In March 1908, a group of citizens met at the Dixon Hotel to organize the East Northport Fire Department. They received their charter on June 6, 1908. R.J. Frost was elected foreman and 12 men enrolled as firemen.
The Dixon family donated land for the erection of a fire house on the corner of 9th Avenue and Larkfield Road. Labor was donated by Frederick Tiivola and his sons, and the $500 for materials was raised in part at the Strawberry Festival. 
Upon the formation of the fire district in 1923, Roscoe S. Leighton became the first Chief of the East Northport Fire Department. Today the East Northport Fire District's northern border is 25A and Middleville Rd. The eastern border is Bread and Cheese Hollow Road and Townline Road. The southern border is Cedar Road. The Western border is Elwood Rd., Stony Hollow Road and Sandy Hollow Road.

Added to Headquarters and Station One, Station Two has just been completed and will help cover the large district evenly.
Eaton's Neck Fire Department
Charles Shoreys and Rudolph Schultz, members of the Eaton Harbors Civic Association, recommended a fire company be created on Eaton's Neck in 1956. The first fire truck for use of the Eaton's Neck Fire Department was a 1922 pump truck, bought for $200 from Centerport. Shoreys and Schultz paid for the truck out of their own pockets, and it was stored in Shoreys' driveway on Winkle Point Drive. The community then raised enough money to pay them back for the truck and for the insurance.
On June 3, 1957, the Eaton's Neck Fire Company was officially incorporated with Charles Shoreys installed as President and Rudolph Schultz as Vice-President.  After purchasing two more trucks for $1.00 each from Centerport and Halesite, Shoreys was running out of room on his property to park them! The need for a fire house had become clear.

After a major fund-raising drive in 1958, a large donation by H.S. Morgan, and a parcel of land set aside for public use by the Eaton Sound Corporation, work began on the construction by local resident Rodman Muller, who saved the property owners a lot of money by doing the work nearly at cost.

In October of 1960, the L.I.R.R. donated three air horns which were placed on the roof to call the volunteers. In 1964 the Eaton's Neck Rescue Squad was formed and used ambulances were purchased. A year later the fire house was expanded, and a new generator added to meet disaster center requirements.
All of Northport's volunteer firefighters have been an integral part of our growing community thanks to those early civic-minded business leaders and the hundreds who have served and protected Northport for over 130 years.
Do you like this post?