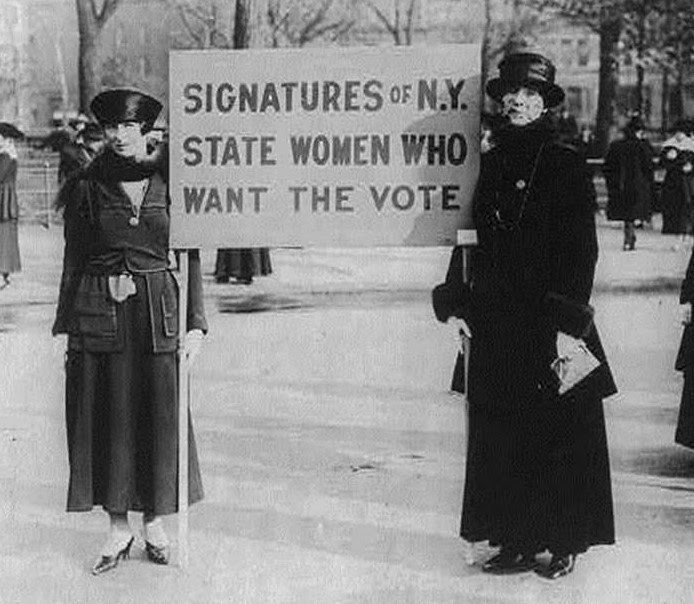 The Nineteenth Amendment, which gave white women in America the right to vote, was certified and became law on August 26th, 1920. It was a huge step in a long, continuing fight for equal rights and we have many revolutionary women to thank.
Among them are two women with ties to Northport.
Rosalie Gardiner Jones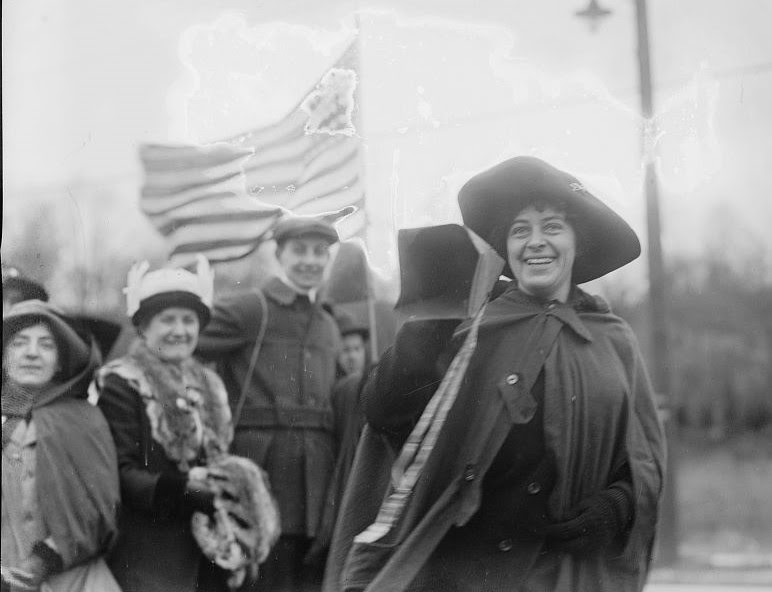 Perhaps the most well-known local activist was Rosalie Gardiner Jones (1883 – 1978) whose mother Mary E. Jones owned a large portion of Eaton's Neck. Rosalie was often referred to as "General Jones" by her fellow suffragists and was inspired by the Pankhursts and the women's movement in the United Kingdom.
On December 16, 1912, she led a group of 200 marchers, whom she called pilgrims, from the Bronx, 125 miles north to Albany. For 12 days, they fought through the bitter cold, snow, mud, and ice to meet with Governor William Sulzer. Only five of the women made it all the way to Albany, but Sulzer gave them his support.  
In March of 1913 she led another march, this time to Washington, D.C., to participate in the National Women's Suffrage Parade. After a grueling 20 days, General Jones and her Army of the Hudson joined thousands of others sending a message to President Wilson the day before his inauguration.
The March 1913 National Women's Suffrage Parade in Washington, D.C.
Later that year, as part of the opening ceremony of an airplane carnival on Staten Island, Jones flew over the crowds in a bi-pane and dropped yellow leaflets, then gave a speech in support of the Suffrage Movement. The press loved her performance and called her a "Pioneer Air Pilgrim".

It's interesting to note that Rosalie's mother, Mary, was an "Anti", short for anti-suffrage. She was the epitome of the social elite, and had a strained relationship with her more modern daughter. Mary was a direct descendant of Major Thomas Jones, for whom Jones Beach is named and for which the term, "Keeping up with the Joneses" originated. 

When Mary died in 1918 of the Spanish Flu, Rosalie inherited her mother's property near Price's Bend. She managed the leasing of the land to the large sand mining operations and allowed summer tenants to build bungalows on the property.
Louisine Havemeyer
Art collector, philanthropist, and suffragist, Louisine Waldron Elder Havemeyer (1855 -1929) and her husband, sugar tycoon H.O. Havemeyer, owned several homes in New York City, Newport, Islip and a farm in East Northport off Burr Road. Louisine invested their money in then up-and-coming artists such as Degas, Manet, Monet Cezanne and Cassatt. After her husband's death in 1907, she became very active in politics, women's rights and the Suffrage Movement. Havemeyer joined Alice Paul in founding the National Women's Party and often gave showings of her art collection to raise money for the cause.

In January of 1917 as a Silent Sentinel, Havemeyer and Paul stood with hundreds of other women in front of the White House with banners and signs directed at Woodrow Wilson. The protesters were attacked by angry mobs and arrested by police, but continued their silent protest for two years. Havemeyer herself was arrested in March of 1919 at the age of 64, for making a speech as members of her party burned an effigy of President Wilson.
National Women's Party members protesting outside the White House with messages directed at Woodrow Wilson.
Soon after her release, she and 26 other members of the National Women's Party traveled cross country on a train, which they called Democracy Limited, later dubbed the Prison Special. The idea was to bring attention to the harsh treatment of women in the Occoquan Workhouse in Virginia, where 150 suffragists were held.

It was later that same year that the Nineteenth Amendment was finally passed by Congress. Louisine Havemeyer died ten years later and her vast art collection was left to the Metropolitan Museum of Art.
Do you like this post?